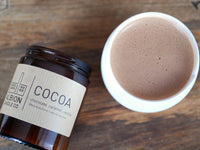 Sweet like chocolate
Rich, dark and decadent, our NEW Cocoa candle is a true indulgence. Filling your home with an immersive sweet scent and giving you that warm fuzzy feeling as you melt into Autumn nights.
DISCOVER COCOA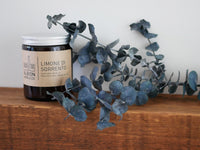 Fresh Limone
As we move into Autumn, we felt like poshing it up with this beautiful fresh fragrance that will brighten your days as the evenings become darker.
This woody fragrance opens up with fresh lemon and lavender, falling into a heart of grapefruit and rose and landing on an encapsulating base of cedar, clove and moss.
GET FRESH
What our lovely customers say
Divine candle with a heart...
I ordered a box of handmade candles as gifts for friends and family. Gorgeous scent fills the room, calming and relaxing, with a long burn time. Great to know I've also supported an ethical local company, with monies donated to mental health charity Manchester Mind <3

Joanna
WOW! What a fantastic candle
Went for the Workshop At Dusk which smells amazing. The packaging is great too. I'll definitely be buying more as I think these candles will be my "go to gift" from now on. Highly recommended. Thank you!

Jeff
Amazing gift and service!
I ordered this box quite late, expecting that it probably wouldn't arrive in time for mother's day, but it was sent out with special delivery so that it would arrive in time, so thank you so much! It was beautifully presented and the candles are such high quality with amazing scents - my mom loves it!

Amy
This is a beautiful candle, from a wonderful company that pride themselves on not only amazingly scented candles but their eco-friendly approach. I will forever support this company due to these two very important reasons - my only complaint is that this candle isn't sold in any bigger sizes...IM IN LOVE!

Emilie
Heaven in a jar.
Wowzers! the best smelling candle that I have ever had.

Katie
BEAUTIFUL!!!
You can really smell all the natural fragrances and leaves a beautifully scented room. I suffer from migraines so finding a naturally made candle that doesn't trigger is just amazing! I'll be buying from this brand.

Rita
AMAZING!
I am on my second order of this candle because it smells so good. The scent fills the room and the candle burns down evenly. Absolutely love it!

Elizabeth
SO LOVELY
This scent is gorgeous! Very natural but still fills the room nicely and came beautifully packaged, can't wait to try some more scents :)

Zoe
SIMPLY GORGEOUS
I am obsessed with this candle, it smells absolutely amazing! Really beautiful scent that gently fills the room. I can't wait to try all the other scents!

Allie